Last June, shares of Kandi Technologies Group Inc. (Nasdaq: KNDI) doubled in the space of a week, spurred on by a mysterious network of social-media touters who later deleted their posts or shut down their accounts entirely.
Kandi's stock went on another big run this summer, and the cyber shills were back with a vengeance. Sharesleuth turned up more than 40 related accounts at StockTwits.com that have touted the Chinese vehicle maker and certain other companies. We found more than 100 accounts at Yahoo.com's finance site that promoted the same set of stocks.
Kandi's shares jumped from $14 in early July to a record $22.49 on July 22, aided by a steady stream of positive press releases, as well as a flood of bullish posts on StockTwits and other investment-related message boards.
Sharesleuth's investigation found that:
Most, if not all, of the suspect StockTwits accounts that touted Kandi listed false names for the purported posters. Many of the profile shots used with the accounts were lifted from free photo sites, dating sites, news sites and other sources.

A stock promoter with a criminal past has been one of the most prolific posters on the Kandi boards at StockTwits, Yahoo.com's Finance site and InvestorsHub.com. The suspect accounts at StockTwits and Yahoo duplicated some of his posts.
The coordinated posting ended abruptly in late August, just before Kandi announced it was selling $71 million in stock to undisclosed investors, at a 10 percent discount to the market price. The touting last year also preceded a share placement.
After Sharesleuth tried to contact the posters via StockTwits, most of them quickly changed their account names, logos and other profile information.
In the six weeks after the suspect accounts stopped posting about Kandi, the company's share price fell by nearly a third, and daily trading volume declined as well. But on Monday (Oct. 6), the touters resumed their efforts. They reappeared just minutes before Kandi's stock went on a sudden tear, rising from $13.50 to more than $15 in roughly two hours.
The touters posted more than 70 messages on StockTwits and Yahoo between 11:30 a.m. and 4 p.m., using nearly 20 different aliases. They continued posting into the evening and early the next morning (Oct. 7) (To see screen captures, click here and here)
MULTIPLE ACCOUNTS, MULTIPLE IDENTITIES
The so-called sock puppet accounts at StockTwits have generated roughly 4,000 messages since May — nearly all of them focused on the same 15 or so companies. Sharesleuth's investigation found that many of the posts also showed up on the message boards at Yahoo.com's Finance site, some under corresponding account names and some under different ones. We reviewed two years of postings on Yahoo's Kandi board and various other boards and identified at least 120 accounts that have been used to systematically tout the same set of companies as the StockTwits posters.
Those accounts are responsible for more than 35,000 posts since the start of 2012.
ANOTHER RED FLAG
The existence of the touting operation is another red flag for investors who might be eyeing Kandi, which is based in Jinhua and makes electric cars, go-karts, all-terrain vehicles and other products.
Sharesleuth previously has raised questions about the accuracy of Kandi's sales figures, particularly its claim to have sold thousands of electric cars in the United States. We also exposed the hidden role a Canadian stock promoter named S. Paul Kelley played in the reverse mergers that brought Kandi and 10 other Chinese companies public.
In May, the SEC brought fraud charges against Kelley and four other defendants, alleging that they concealed their ownership stakes in two of the reverse-merger companies – China Auto Logistics Inc. (Nasdaq: CALI) and Guanwei Recycling Corp. (Nasdaq: GPRC). The SEC said they artificially inflated those companies' share prices through manipulative trading, then made millions of dollars by dumping their stock in public and private sales.
Kelley and another defendant, Roger D. Lockhart, quickly settled the charges by agreeing to pay more than $9.3 million in disgorgement, penalties and interest.
The SEC also alleged in its complaint that Lockhart and two other defendants engaged in a scheme to manipulate Kandi's stock price in the fall of 2009. The SEC said Kandi's chief executive, Xiaoming Hu, agreed that the company would provide 350,000 shares to pay for the effort. It said one of the defendants, George Tazbaz, later provided that same number of shares to stock promoters.
Kandi disclosed in March that the Securities and Exchange Commission was investigating the company and had subpoenaed certain documents. It said in its latest quarterly financial report, on Aug. 11, that the probe was still active.
Kandi's stock closed Monday at $14.50. That gives the company a market capitalization of roughly $670 million, down from a peak of $940 million.
(Mark Cuban, majority owner of Sharesleuth.com LLC, has recently taken a short position in Kandi's shares. Chris Carey, editor of Sharesleuth, does not invest in individual stocks and has no position in Kandi.)
A PROLIFIC POSTER
We found that Platon D. Petratos, a stock promoter whose criminal record includes arrests on drug and theft charges, has been one of the busiest posters on the Kandi boards. He is active at StockTwits and Yahoo, and moderates the Kandi board at InvestorsHub.com.
Petratos, who goes by the screen name "Bullmarkethobo2012" at StockTwits and Yahoo, has not identified himself on the Kandi boards as a professional promoter. Nor has he disclosed whether anyone is paying him for his efforts.
Instead, Petratos claims to be a large Kandi shareholder. He wrote in a post on the StockTwits message board in late July that he was "long 250k," suggesting that he controlled Kandi stock worth more than $4.1 million at that time. He said in another post on the Yahoo board in August that he'd added 17,245 shares, at a cost of $300,000.

We noted that some of the fictitious StockTwits accounts posted messages that were identical — or nearly identical — to those posted by Petratos. So did several of the Yahoo accounts we identified as being part of the touting network.
Petratos did not respond to Sharesleuth's requests for comment.
RECORD STOCK PRICE
Kandi's stock gained ground this summer despite the SEC investigation. Its share price reached a new high on July 22, following a string of favorable announcements related to its electric car business in China. Among other things, the company said that its joint venture with Geely Automobile Holdings Ltd. had sold 4,114 electric cars in the second quarter — more than any other Chinese manufacturer.
Kandi also said the joint venture had received a $31.8 million subsidy check from the Chinese government, covering the sale of more than 3,000 electric vehicles sold in 2013 and more than 1,000 sold in the first quarter of this year.
But certain details in Kandi's press releases and earnings report could not easily be  reconciled with the numbers in its Securities and Exchange Commission filings, causing some people to raise questions about its accounting and transparency. Kandi's stock dipped as low as $16.20 before making its way back above $20 on Aug. 20.
Coincidentally or not, that was the last full day that the fake accounts teamed up to tout Kandi. On Aug. 21, the company's share price fell by more than 5 percent, in the absence of any clearly negative news.
It dropped even more sharply on Aug. 29, after Kandi announced that it was selling 4.1 million new shares at $17.20 a share. That represented a nearly 10 percent dilution for existing shareholders.
We noted that the runup and tout campaign in June 2013 also came just before a private placement. Kandi's stock went from $3.92 on June 4 of that year to $8.50 on June 11. Two weeks later, the company sold 4.4 million new shares at $6.06 a share.
By August 2013, Kandi's share price was below $5.
FLOODING THE MESSAGE BOARDS
Sharesleuth has been keeping a close watch on the Kandi message boards for the past two months, documenting the connections between posters. We noticed that on certain days, the related accounts combined to generate a high percentage of the chatter.
On Aug. 5, for example, nearly half of the 100-plus conversation topics on the Yahoo message board were started by Petratos or the other posters that we linked to the touting campaign. Kandi's share price jumped by almost $1, to $18.78, on no news.
Here is one example of Petratos and two of the sock-puppet posters initiating five consecutive discussion topics on the Yahoo board in a period of 17 minutes: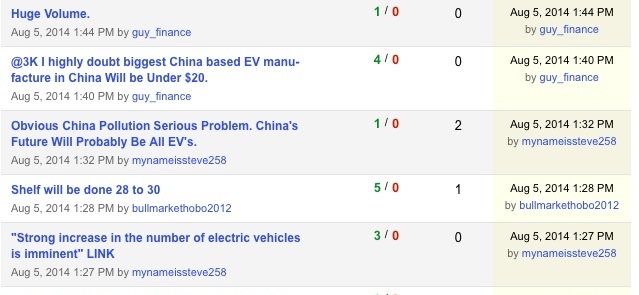 That same day, Petratos and 14 of the accounts that we identified as fictitious posted about Kandi at StockTwits, a social media site popular with professional traders, individual investors and other market watchers.
Several of the posters said Kandi's stock was undervalued at $18 or $19; others reported that they had just purchased additional shares. Over the next few days, the posters upped the optimism, asserting that a good earnings report could lift Kandi's shares above $25.

Kandi released its quarterly earnings on Aug. 11, and its stock jumped almost $2 in early trading, to $20.50. However, the company's shares ended the day at $19.09, and fell to $17.21 the following day.
On Aug 20, Petratos and the fake accounts on StockTwits kicked into high gear again, posting nearly 80 messages about Kandi between 7 a.m. and 7 p.m.. Many of the same messages were reposted on Yahoo.
The previous afternoon, Kandi's registration statement covering the issuance of $300 million in stock, debt or other securities had been declared effective. On StockTwits, Petratos argued that although the sale of new shares would be dilutive to existing stockholders, the cash was necessary to fund the company's rapid growth.
He claimed in a series of posts that he had friends in the investment world who were "ready to take KNDI to 60 to 100," but would not build significant positions until the company secured additional capital to fund its growth.

Kandi's stock rose more than $1 in early trading on Aug. 20, reaching a high of $20.87. It ended the day at $20.39, up more than 3 percent. Petratos and the fake accounts continued posting after the markets closed, predicting additional gains.

The StockTwits and Yahoo posters continued posting in earnest on the morning of Aug. 21, and Kandi's shares rose again, peaking at $21.18.


Then, in the early afternoon, the stock took a sharp downward turn. For the next few hours, the fake StockTwits posters were silent as Kandi's shares fell by more than $2. The stock hit a low of $18.55 before recovering to close above $19.
Only a few of those accounts have posted anything about Kandi since.
MANY ACCOUNTS, FEW ACTUAL POSTERS?
Our analysis suggests that the accounts at StockTwits and Yahoo are controlled by a relatively small number of people. For one thing, we noted that messages from various posters featured the same spelling or punctuation patterns – for example, erroneously using the words "subsided" and "subsiding" in place of subsidized and subsidizing, and routinely referring to electric vehicles as "EV's" rather than "EVs."

Petratos' messages on the sites revealed the same writing tics (see here, here and here).  In addition, our review found numerous instances where he was online and posting at the same time as the fake accounts – sometimes in the middle of the night.
SYSTEMATIC POSTING
We found that certain fake Yahoo accounts tended to make the initial postings about Kandi on that board. Others were used mainly to post replies, creating the impression of broader investor interest and ensuring that selected discussion threads stayed near the top of the message boards. We identified several accounts whose only messages over the past few years were responses to those from other accounts we flagged as fictitious.
It is unclear to us why anyone would go to such unusual lengths to tout Kandi's stock, or what impact those efforts might have had on the company's share price. Kandi has a relatively low percentage of institutional ownership and no U.S. analyst coverage, which means it relies more heavily on individual investors and other retail buyers for volume.
It's possible that the postings were meant to skew the findings of services that provide real-time tracking of changes in investor sentiment, thus luring additional swing or momentum traders. On Aug. 5, as the fake accounts were flooding Yahoo and StockTwits  with messages, a service called PsychSignal reported a "100 percent increase in bullish conversations" regarding Kandi's shares.
It's also possible that the postings were intended to trigger algorithm-based trading programs that scan news and social media sites for information that might move share prices. Many of the posts mentioned Bloomberg, Forbes or Barron's in the subject line, even though the messages did not contain links to any news articles. Some mentioned "algos," indicating the posters were aware of the computerized trading systems.
The tout posts also showed up on the Kandi pages at Reuters.com, TheStreet.com, CNN.com and other sites that include a live feed from StockTwits, further amplifying their messages.
FLOUTING THE RULES
The house rules at StockTwits prohibit users from creating multiple accounts. They also prohibit them from making posts intended to move the price of a stock, and from sending "repeated overly positive or negative messages" without new or substantive information.
StockTwits monitors postings to try to spot violations, and also relies on users to flag and report questionable activity, said Justin Paterno, the site's product manager.
"With that, we find and kill a lot of things," he said.
People opening accounts must have a verified email address and cannot open multiple accounts using the same address, Paterno said.
It's unclear how the creators of the accounts that have been touting Kandi and the other companies were able to get around those restrictions.
Yahoo says it relies on message board users to report questionable activity to its customer care department. Users also can rate posts directly on the site, using a "thumbs up" and "thumbs down" system.
Yahoo monitors posts that are the subject of complaints. It reserves the right to remove messages or ban accounts that do not comply with its guidelines or terms of service..
WHO IS PLATON PETRATOS?
Petratos, 55, has worked in investor relations or stock promotion for more than a decade.  Our research found that he has a history of spamming stock message boards that dates back to the early 2000s.
Press releases show that in 2004, Petratos became a consultant to Victor Industries Inc., a fertilizer company whose stock traded on the Pink Sheets.The release identified him as managing director of Icor Relations, a Miami-based firm.
SEC filings show that Victor Industries generated less than $10,000 in revenue in its entire existence, and that its highest stock price was less than 3 cents a share. The company disappeared in a reverse merger in 2006.
Petratos later formed PSP Venture Inc., another investor-relations firm. Press releases show that it signed a deal in 2011 to represent Garb Oil & Power Corp. (Pink Sheets: GARB), which said it was in the waste-to-energy business. However, regulatory filings show that the Utah-based company generated no revenue in 2011, 2012 or 2013.
Garb announced last year that a new ownership group had acquired a majority stake in the company. It now says it hopes to branch out into the medical-marijuana industry. Its most recent stock price was a fraction of a penny.
PSP Venture sponsored a private Yahoo group called Wealthy Penny, which functioned as a live chat room during trading hours. It also operated Penny Safari, which featured profiles of microcap companies.
In addition to Garb, Penny Safari promoted Options Media Group Holdings Inc. (Pink Sheets: OPMG), which used singer Justin Beiber to promote a phone app that it said could block drivers from texting while behind the wheel. That company's fortunes crashed after it was reported that the person behind the app was a convicted felon with ties to a car-theft ring. Options Media's shares now trade for less than a penny.
More recently, Petratos has been involved with Treaty Energy Co. (Pink Sheets: TECO), which has oil properties in Texas, Louisiana and Belize. Although Treaty claimed in 2012 to have struck oil in Belize, the company never announced any production from the property and the project at became bogged down in litigation.
Like Garb and Options Media, Treaty Energy is a sub-penny stock. It is delinquent in its SEC filings, and as of the last quarterly report, it had yet to report any revenue. Last year, a drilling contractor filed two liens against the company for more than $100,000.
Petratos has posted messages on the Kandi boards at StockTwits and Yahoo suggesting that other investors buy shares in the company. He said in a posting this month that he and other investors have injected new capital into Treaty Energy.
Petratos also has called attention to a second company, Mind Solutions Inc. (OTCBB: VOIS), which claims to be developing technology that would allow users to control computers through electrical activity in the brain.


Mind Solutions' stock trades for less than a penny a share. Price and volume summaries show that more than 1.5 billion shares have changed hands in the past two months.
CRIMINAL PAST
Sharesleuth found that Petratos has a criminal history that include charges for drug possession and drug trafficking in Florida in the 1980s, and a conviction for theft in 2000 that resulted in a five-month jail sentence.
Court records show that Petratos was arrested in the Miami area in 1981 and charged with possession of cocaine, trafficking in cocaine and possession of barbiturates. The following year, he entered into a withheld adjudication agreement on the possession of cocaine charge, and prosecutors did not proceed with the other charges. Under a withheld adjudication agreement, a defendant agrees to plead guilty or no contest, with the understanding that he or she will be sentenced to probation. If the defendant completes the probation successfully, no judgment goes on his or her record.
Court records show that Petratos also was charged with theft in Jefferson County, Louisiana in the mid-1990s. For reasons that are not clear from the docket sheet, the case took more than five years to wend its way through the legal system.
In July 2000, Petratos changed his plea to guilty and was sentenced to five months in jail. He was credited with 50 days of time served in connection with an earlier stay behind bars. Although the court documents listed Petratos' first name as Platen rather than Platon, the date of birth and home address confirmed that it was the same person.
Records show that Petratos was arrested again on theft charges in 2008, but prosecutors did not go forward with that case.
IDENTIFYING THE ACCOUNTS
We identified the related accounts at StockTwits by comparing the dates and times of their posts, as well as their writing styles. We then looked for other connections, and found that many of the accounts had opted to follow one another's postings.
For example, the profile for a StockTwits account with the nickname Bulltrader222 showed that it was following 16 of the other accounts we identified as fictitious. Petratos currently uses the nickname Bullmarket2222 on Investors Hub, and previously went by Bullmarkethobo222 on another message board.
On the evening of Aug. 10, Petratos posted a message on Yahoo about Kandi getting a favorable rating from a Chinese brokerage firm. The next morning, Bulltrader222 posted an message on StockTwits with the identical subject line.


The report about the brokerage firm's rating was not breaking news that the two could have stumbled upon independently; Petratos had posted the same information more than a month earlier.
We also noted that when Petratos took a six-day break from posting on StockTwits in mid-July, Bulltrader222 took a long break, too. So did all16 of the other fictitious posters that Bulltrader222′s account was listed as following.
Threads for those accounts showed that none of them posted anything on StockTwits from July 17 to July 23.
Our review of the StockTwits accounts showed that Petratos, as Bullmarkethobo2012, posted five messages about Kandi between 1 a.m. and 6 a.m Eastern time on July 24. Three of the other accounts we flagged as fictitious also posted messages between 2 a.m. and 4 a.m. Although their posts were about other companies the network has been promoting, we view the timing of their online sessions as more than a coincidence.
Our review also found that Petratos posted a message on InvestorsHub at 1:02 a.m. Eastern time on Aug. 11 about another research report on Kandi. Thirteen minutes later, a message with the same subject line was posted on the Yahoo board by a person using the account name "larrystone13." We previously had flagged that as one of the fictitious identities being used in the tout campaign. We also noted that one of the fake StockTwit accounts linked to the campaign used a similar identity, @larrystonetrades.
Five hours later, BullTrader222 posted a similarly worded message on StockTwits.

The name on Bulltrader222′s StockTwits account changed last month to @greedyguy1.
MATCHING POSTS ON YAHOO
After identifying the related posters on StockTwits, we checked to see whether identical, or nearly identical, messages had been posted at Yahoo.
We found several accounts at Yahoo with user names that matched the ones at StockTwits — including "mandoesit" and "iminjim." But we noted numerous instances in which a message posted under one name at StockTwits was posted under another name at Yahoo, thus confirming a link between the posters.
We also looked to see what other companies besides Kandi the people behind those accounts had been posting about, and found that nearly all of their messages over the past few years focused on the same 15 or so stocks.
Finally, we looked to see which other Yahoo posters interacted frequently with the ones that reposted the messages from the fictitious StockTwits accounts. That led to dozens of additional Yahoo accounts that appear to exist primarily to respond to the main posters.
In the past few months, the StockTwits accounts and the chorus of related accounts at Yahoo also have posted extensively about a handful of biotech companies, including  Gilead Sciences Inc. (Nasdaq: GILD), Achillion Pharmaceuticals Inc. (Nasdaq: ACHN), MannKind Corp. (Nasdaq: MNKD) and Repros Therapeutics Inc. (Nasdaq: RPRX).
Sharesleuth is not suggesting that any of those companies are responsible for the touting campaigns.
The fake accounts also have been posting about Tesla Motors Inc. (Nasdaq: TSLA) and Apple Inc. (Nasdaq: AAPL). But those companies are so big and have such large trading volumes that postings on message boards are unlikely to have an impact on their shares.
FALSE NAMES AND FALSE PHOTOS
As we noted previously, most, if not all, of the sock-puppet accounts at StockTwits used false names for the purported holders. We traced four to the Facebook page of an Ohio woman, whose own name previously was appropriated for two Yahoo accounts.
One of the Yahoo accounts was created in December 2012, using a slightly altered spelling of the woman's first name. The profile for the account showed that it had generated more than 960 posts. The second account, which used another iteration of the woman's name, was created in January of this year. The StockTwits accounts that incorporated the names of some of her Facebook friends were created after that.
We found that one of the StockTwits accounts used the name of the woman's boyfriend, while three others used names taken from her list of Facebook friends.
We found that the head shots used as profile pictures on many of the StockTwits accounts were pilfered from other sites. For example, the photo for a poster using the name John Lewis actually was a head shot of Andy Heller, an Atlanta-based real estate investor.

The photo for another poster who used the name Mark Roman was taken from a 2005 column by Aaron Robinson, an editor at Car and Driver magazine.


A SUDDEN CHANGE OF NAMES
In mid-September, Sharesleuth posted two messages of our own on StockTwits, asking some of the touters to contact us about their activities. Instead of responding, they began changing their profiles and assuming new identities. Within 72 hours, more than two-thirds of the 38 accounts that we were tracking had been renamed. Some of the posters not only altered their screen names, but also their supposed genders. One of the accounts, @Mandoesit, became @Girlpowertrade. Another, @Traderman007, became @Wallstreetgirl. That account was later changed again, to @bullmanhere.


Another of the StockTwits accounts, @dollarbills288, was renamed @tradinghulkman. That name matched one of the Yahoo accounts that has been touting Kandi and the other companies. A handful of new accounts also popped up in recent days, and have joined the touting effort. They include @mrxxxx, @trades247 and @dantrades123.
The people behind the StockTwits accounts have switched most of the profile pictures, replacing head shots with company logos, cars and other images. In a particularly cheeky move, one account that used the name @greglawguy took on the logo of Statton Oakmont Inc., the defunct brokerage house run by Jordan Belfort, the self-proclaimed "Wolf of Wall Street." Belfort and his associates stole hundreds of millions of dollars from investors in the 1990s by manipulating the stock prices of small public companies and then dumping the artificially inflated shares on the market.