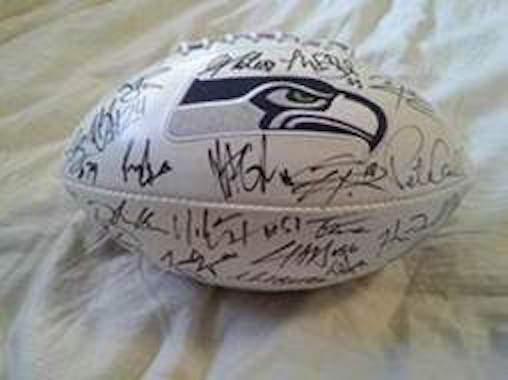 Just days after the Seattle Seahawks and New England Patriots claimed their spots in Super Bowl XLIX, a memorabilia company called The Highland Mint contacted customers with a tantalizing list of autographed collectibles.
Highland — best known in sports circles as the maker of the commemorative coin used for the game's opening toss — said it was selling a limited number of Patriots and Seahawks items, including official Super Bowl XLIX footballs and mini-helmets signed by star quarterbacks Russell Wilson and Tom Brady.
The pieces on the company's list ranged in price from $399 to $2,500 and had a combined retail value of more than $300,000. Highland said each would be shipped with a certificate affirming their authenticity.
But a Sharesleuth investigation found that all, or nearly all, of the items were fakes. What's more, we found that the Melbourne, Fla.-based company has marketed virtually identical merchandise before previous Super Bowls, dating back to at least 2011.
After becoming suspicious about this year's items, Sharesleuth contacted representatives for Wilson and Brady, who confirmed that the players had no part in their creation. We also sent the evidence to the NFL's headquarters, but got no response.
The special collectibles were not advertised on Highland's web site, which features a wide range of legitimate, NFL-authorized merchandise. Instead, a list with descriptions and pictures was offered to customers who previously had expressed interest in such items.
Although forgeries are a perpetual problem in the memorabilia business, experts said it was highly unusual for an established, league-approved vendor to be dealing in them.
It is unclear how many of the questionable Super Bowl-related items Highland actually sold. But if it managed to move most of the inventory it advertised for the past five games, the proceeds could be in the neighborhood of $1 million.
"ZERO CHANCE" OF AUTHENTICITY
Scott Mahlum, a Seattle-area memorabilia dealer who has an exclusive signing agreement with Wilson, said there was "zero chance" that the Seahawks quarterback autographed the footballs, jerseys, helmets and photos on Highland's list.
"There's no way that Russell Wilson sat down and signed 16 team helmets for anybody else,'' Mahlum said, referring to one set of items on Highland's list, priced at $1,995 each.
Mahlum's company, Mill Creek Sports, also represents Seahawks running back Marshawn Lynch, who purportedly signed dozens of the pieces that Highland was selling.
Jeff Rosenberg's company, TRISTAR Productions Inc., has handled all of Brady's  authorized memorabilia signings since 2001. Rosenberg said TRISTAR was not the source of the items that Highland was selling.  They included nearly 100 autographed 8×10 photos of the Patriots quarterback, offered in frames with souvenir coins. The sets were priced at $399 each, meaning they had a total retail value of nearly $40,000.
A SINGLE SUPPLIER
Mahlum confronted Highland about the items last week and was told that it had procured them from another Florida company called Who's Who Productions Inc.
Who's Who says on its web site that it obtains autographs through private signings, and through the use of crews that stake out sporting events hoping to get athletes to add their names to balls, jerseys and other gear. Who's Who noted on its site that it usually sells its memorabilia at fan events during Super Bowl week, in the cities hosting the game.
This year's game was in Glendale, Ariz., a suburb of Phoenix. The Patriots defeated the Seahawks, 28-24, in what ranks as one of the best games in Super Bowl history.
Michael A. Goldfarb, president of Who's Who in Tamarac, Fla.,, did not respond to our questions.
Mahlum said he found it hard to believe that Highland did not question the legitimacy of the Super Bowl-related memorabilia, given that the supplier had no direct ties to the players who were said to have signed the items.
Highland once had an outside party confirm the authenticity of its autographed merchandise. But in recent years, customers have received certificates signed by the company's president and owner, Michael E. Kott.
He did not respond to our questions.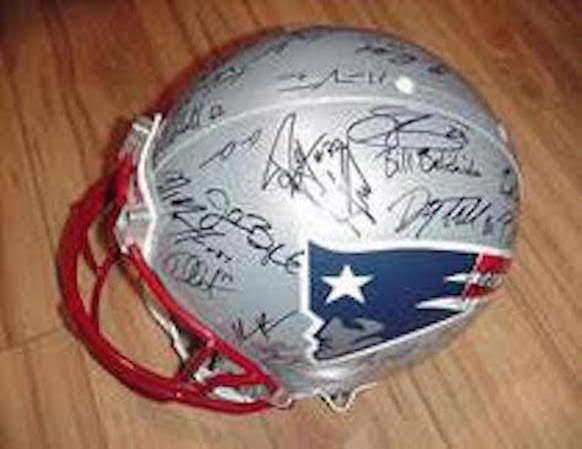 HIGHLAND'S  PAST
Highland has an unusual pedigree for a business that is a licensed partner of all four major sports leagues — the NFL, the National Basketball Association, the National Hockey League and Major League Baseball.
It once was a subsidiary of Hariston Corp., a publicly traded company linked to Michael Kott's father, Irving Kott — a notorious stock swindler who was the subject of criminal or regulatory action in the United States, Canada and the Netherlands.
Kott pleaded guilty in 2004 to concealing his ownership in J.B. Oxford Holdings Inc., a brokerage with headquarters in Beverly Hills, Calif.  According to the original indictment, he used his control of J.B. Oxford to help self-proclaimed "Wolf of Wall Street" Jordan Belfort orchestrate a series of fraudulent initial public offerings in the mid-1990s.
Federal prosecutors alleged that Irving Kott's designees got millions of dollars worth of stock in companies taken public by Belfort's firm, Stratton Oakmont Inc., and two related brokerages, Monroe Parker Securities Inc. and Biltmore Securities Inc.
They alleged that Kott's designees flipped the stock for virtually risk-free profits immediately after trading began and split the proceeds with him. Belfort and his associates also controlled large amounts of pre-IPO stock, which they sold to unsuspecting retail investors after boosting share prices through manipulative trading.
Belfort was sentenced to four years in prison and ordered to pay $110 million in restitution. to victims of the schemes. Although Irving Kott was indicted on multiple counts of securities fraud and money laundering in connection with the share deals, the U.S. Attorney's office in Los Angeles dropped those charges as part of the plea agreement.
The FBI and the Securities and Exchange Commission also suspected that Irving Kott used J.B. Oxford to manipulate the shares of other dubious companies in which he or his alter egos had ownership positions. That list included Hariston, which was the subject of a story in Business Week that called attention to its surging share price and ties to the Kotts.
The original owners of Highland sold their commemorative-coin and trading-card business to Hariston in 1993, in return for stock in that company. They later sued Hariston, Irving Kott, Michael Kott and two other defendants, alleging that they made false representations about Hariston's business outlook and share prospects.
Among other things, the original owners alleged that Irving Kott promised them Hariston's shares would rise from $6 at the time of the deal to $22, a price that would have valued the stock issued in the purchase at more than $4 million. Instead, Hariston's fortunes deteriorated and its stock price collapsed. Hariston disposed of Highland as part of an ultimately unsuccessful restructuring effort, and the original owners dropped their suit.
Irving Kott was sentenced to five years' probation in the J.B. Oxford case. He also agreed to pay a $250,000 fine and make $750,000 in charitable contributions. He died in 2009, at age 78.
(Editor's note: Highland Mint sells Dallas Mavericks memorabilia under its licensing deal the NBA. Mark Cuban, owner of Sharesleuth.com LLC, also owns the Mavericks.)
MICHAEL KOTT'S PAST
Michael Kott worked in the brokerage business before joining Highland. He spent two years as president of Greentree Securities Corp., which had offices in Florida, New York and other states.
The firm, which specialized in penny stocks, shut down abruptly in the late 1980s.
Before that, he worked at First Commerce Securities, a boiler-room style brokerage in Amsterdam that marketed shares of obscure U.S. and Canadian companies to European investors. Dutch authorities concluded that Irving Kott secretly controlled the operation.
They estimated that First Commerce took in more than $250 million selling largely worthless stock. But they were unable to extradite Irving Kott from Canada to face charges, so they agreed to a settlement in which he paid $4 million.
Sharesleuth's investigation found that Highland Mint is linked financially to another precious-metals and collectibles company, Westminster Mint, in Minnesota.  Corporation filings show that it is headed by Ian Clay, formerly national sales manager at J.B. Oxford.
According to a 1996 article in Time, Clay previously worked at a pair of boiler-room brokerages in Europe connected to Irving Kott, and operated a stock-promotion newsletter that touted stocks linked to him.
THE SUPER BOWL XLIX MERCHANDISE
Highland's list of Super Bowl memorabilia this year covered nearly 300 items. It featured 13 regular helmets and four throwback helmets purportedly signed by some three dozen members of the Patriots organization, including Brady, coach Bill Belichick, tight end Rob Gronkowski and wide receiver Matthew Slater. They were priced at $1,995 each.
The list also included six team-signed helmets from an earlier Super Bowl, priced at $2,500 each. The email said those would not be available until after Sunday's game, which suggests that some of the signatures were to be collected in Arizona.
Highland was offering seven official Patriots helmets purportedly signed by Brady alone, plus more than two dozen other helmets, footballs and jerseys he was said to have signed with others.
The Seahawks list featured 16 regular and six Super Bowl XLIX helmets purportedly signed by members of that organization. They included Wilson, Lynch, coach Pete Carroll and all-pro defensive backs Richard Sherman and Earl Thomas. The regular helmets were priced at $1,995 and the Super Bowl helmets were $2,495.
Highland also offered what it said were eight Wilson-signed Super Bowl XLIX game footballs, eight Super Bowl logo footballs and eight Super Bowl mini-helmets. Mahlum said that Wilson had no deal to sign items from Highland or Who's Who while in Phoenix.
All told, Highland's merchandise list included almost 50 items that Wilson purportedly signed individually and more than 70 that he was said to have signed with teammates.
The list also featured five Seahawks jerseys supposedly autographed by Lynch, the taciturn star who is almost as well known for his avoidance of the media as he is for his avoidance of opposing defenses.
Mahlum said those $750 jerseys also were fakes, as were the 8X10 photos said to have been signed by Lynch and Wilson. Like the Brady photos with the forged autographs, they were offered in frames, with souvenir coins, for $399 each.
A PREVIOUS PATRIOTS SALE
The Patriots also played in Super Bowl XLVI in 2012, losing to the New York Giants. Before that game, Highland offered more than 100 autographed helmets, jerseys and footballs purportedly signed by members of the Patriots and Giants organizations.
Those items ranged in price from $300 to $2,400. The most expensive were Super Bowl XLVI helmets said to have been signed by the head coaches and key players on either team. The merchandise also included:
– Eight regular Patriots jerseys and six mini helmets that were supposedly signed by Brady.
– Four logo footballs said to have been signed by Brady and receiver Wes Welker.
– Four logo footballs said to have been signed by Brady, Welker and Belichick.
Rosenberg's exclusive signing deal with Brady was in place when the Patriots played in that Super Bowl. He said that his company did not provide Highland with the items that the quarterback supposedly autographed.
The combined retail value of all the merchandise that Highland offered before the 2012 game was just over $185,000.
OTHER SUPER BOWLS
The following year, the San Francisco 49s played the Baltimore Ravens in Super Bowl XLVII. The 49ers were coached by Jim Harbaugh; the Ravens were coached by his brother, John.
The special items that Highland offered its customers prior to that game included seven Super Bowl logo footballs purportedly signed by both brothers, plus six Super Bowl mini helmets they also were said to have signed.
The footballs were priced at $750 and the helmets were priced at $450.
The most expensive pieces of memorabilia were 14 Super Bowl logo helmets, eight  supposedly signed by members of the 49ers organization and six supposedly signed by members of the Ravens organization.
They were offered at $2,500 each, which translates to a total retail value of $35,000.
In 2011, the Green Bay Packers went against the Pittsburgh Steelers in Super Bowl XLV. Highland offered more than 150 items that were said to have been signed by players from those teams.
The merchandise list included 26 signed Super Bowl XLV logo helmets priced at $2,600 each, and 20 signed Super Bowl logo footballs priced at $1,800 each. It also featured 20 signed jerseys priced at $2,000 each.
The combined value of all the pieces that Highland offered that year exceeded $225,000.
OTHER OUTLETS FOR FORGED MEMORABILIA
Mahlum found a second company last week that was offering some of the same merchandise as Highland. When he notified it that the items were fake, it immediately deleted them from its web site.
Mahlum said Mill Creek Sports systematically polices online marketplaces to make sure that no one is selling memorabilia with clearly forged or questionable autographs by players his organization represents.
"I go through eBay and A,amazon on a nightly basis and get stuff pulled down," he said.
Last year, Mill Creek Sports spotted someone selling a significant quantity of merchandise supposedly signed by Wilson. It went to court and got a cease-and-desist order against the vendor, and also forced him to turn over all the fake items.